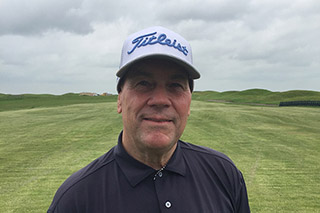 Kris Ford has dedicated his life to the game of golf and improving the knowledge and level of efficiency among everyone he teaches. He's a lifetime member of the PGA and has been associated with the Titleist brand for over 37 years.
Kris grew up in northern Indiana and became an all-conference golfer in both high school and college. He has experience across a broad range of golf associations, including private clubs, resorts, public courses, at military bases, as well as coaching at the college division 1 level. Stops have included Innisbrook Resort in Tarpon Springs, Florida, East Ridge Country Club in Shreveport, Louisiana, Windance Golf Club in Gulfport, Mississippi, Evanston Golf Club in Skokie, Illinois, Winnetka Golf Club in Winnetka, Illinois and Barksdale Air Force base in Shreveport, Louisiana.
Kris has been at Willow Hill Golf Club for the past five seasons and is known for his personal approach to each of his students. He focuses first and foremost on their most immediate needs, regardless of their level of playing ability. He thrives on building lasting relationships and customizing positive growth learning programs that add to a student's overall enjoyment of the experience. To learn more, you can reach Kris directly at (847) 602-8071.